At our Annual General Meeting on October 5, 2021 we welcomed aboard four new board members and we would like to introduce them to you.
Nic Brewer (she/her) – Secretary:
Nic Brewer is a queer writer, editor, arts administrator, and serial hobbyist. By day, she works at the League of Canadian Poets, and by all other hours she enjoys crafting and tiny adventures with her wife and their dog. Her passion for community has so far manifested in literary endeavours: she is the co-founder of Frond, an online literary journal for prose by LGBTQI2SA writers, and formerly co-managed the micropress words(on)pages. She is also a novelist, and her debut novel Suture was published Book*Hug in Fall 2021. She loves tea, boxing, and the ocean, and she really wants to hear about what you love most in the world.
Hollee George (she/her):
Boozhoo! Musko Giizhigo Ikwe N'dizhnikaaz. Hello! My name is Red Sky Woman. My name comes from the eastern direction and it means "New Days" or "New Beginnings".
When I was named, the Elders taught me that when the sun rises in the east the sky is red and so, the red sky tells us that a new day or new beginning has come. I take pride in being and bringing new days or new beginnings to my family and community. With that, I also belong to the Sturgeon Clan, which is an old teaching clan – otherwise known as the fish clan.
My English name is Hollee George. I am a registered section 6(1) status Indian and band member of the Chippewas of Kettle and Stony Point First Nation, located in Southwestern Ontario. I identify as a Two Spirit Anishinaabe Ikwe (lesbian) and have both Ojibway and Potawatomi blood. I am a mother, a daughter, a sister, an auntie and a wife.
In the community, I've recently been selected to be the Two Spirit Council Ambassador for Fierte Canada Pride. I am a knowledge keeper, carrier of ceremony, a Jingle dress dancer, political and social activist.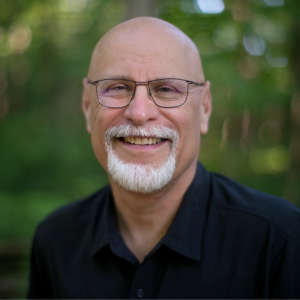 Mark Hartburg (he/him):
Mark Hartburg, 65, has lived in the Region since 2005. A former Lutheran minister he came out in 2014. Since then he has been a volunteer with SPECTRUM and is an activist working to end Conversion Practices/"Therapy" locally and federally. He officiates weddings and other life celebrations. Mark is married to Bruce, has two daughters and a grandson. Together they have a dog and two cats and love to camp in their teardrop camper.
Cris Sheridan (she/her):
Cris Sheridan is a registered dietitian and holds a master's degree in human nutrition, with a focus in food security and adult education. She works as a regional manager with a medical technology company in the area of type one diabetes. Currently, she is the founding chair of her organization's Pride Network. Prior to this, Cris worked as a full-time instructor in the Food & Nutrition program as well as the Nursing programs at Ryerson University. She enjoys a good 'crafter-noon' or kitchen dance party with her six-year old little human and her dog. Kale, sarcasm, and traveling are things Cris enjoys. When she isn't being a dedicated co-parent, or working at her demanding job she is usually dreaming of changing the world or eradicating world hunger and heteronormative assumptions or being on a beach in the sunshine.
You can find information about our Board of Directors here.