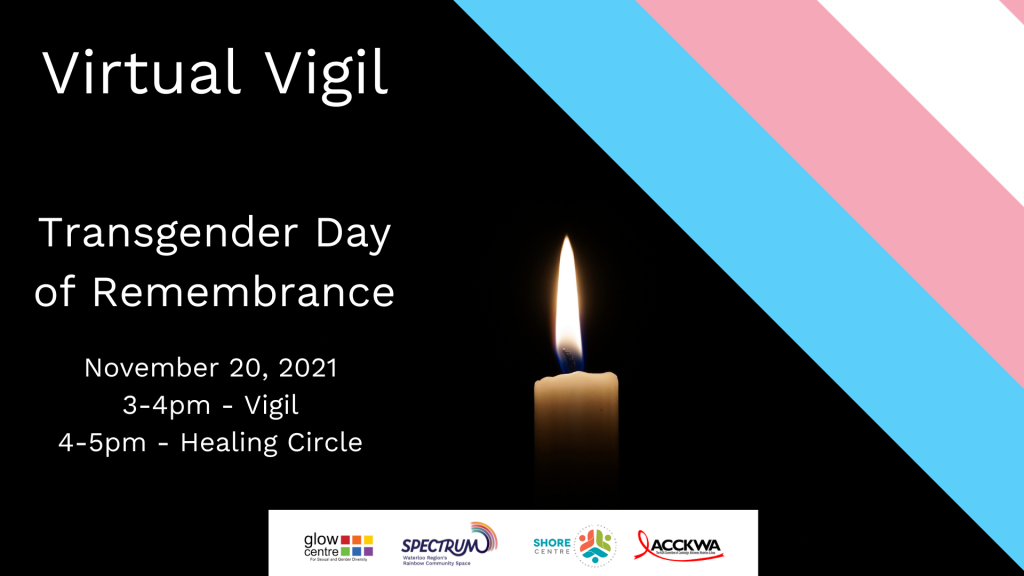 Every year on November 20th, we observe the Transgender Day of Remembrance to remember the transgender people we have lost to violence in the past year.
This year, the Glow Centre and SPECTRUM are partnering with ACCKWA and SHORE Centre on a virtual vigil event for the Transgender Day of Remembrance on Saturday November 20, 2021 at 3pm. From 3-4pm we will hear from speakers, and from 4-5pm there will be a facilitated healing circle.
Click here to register for the event.
(A small number of students will be able to attend in-person on the U Waterloo campus, other community members will be able to attend virtually)
The event will be hosted by Sam Faulkner. Our speakers will be Dewe'igan Bearfoot, Cait Glasson, TK Pritchard, and Teneile Warren. The healing circle will be facilitated by Mandi Cowan and Washington Silk.
Dewe'igan Bearfoot (she/they)
Dewe'igan Bearfoot is a two-spirit transfemme Anishnaabe woman hailing from Spry Lake Ontario. They came out as Bisexual at the age of 16 and then came out as Trans between the ages of 19 and 20. Since then they've become an advocate for Mental Health Awareness, 2S and LGBTQA+ Rights and Land Back.
Sam Faulkner (they/them)
Sam is a design student interested in advocacy work and community event planning as well as user experience research and hearing health. They have participated on numerous committees that focus on improving transition related health care and LGBTQ+ sports inclusion including co-founding Ottawa-based trans youth group, SAEFTY. In their free time, they enjoy crocheting and writing articles for their university's student government.
Cait Glasson (she/her)
Cait is a lesbian who came out as such 29 years ago, and at 55 is a mother, grandmother, activist, educator, and, incidentally, trans. Cait is the former President of the Board of Directors of SPECTRUM, Waterloo Region's Rainbow Community Space.
TK Pritchard (they/he)
TK is the Executive Director for SHORE Centre, a reproductive rights and sexual health non-profit. TK has previously worked as the Public Education Manager for the Sexual Assault Support Centre of Waterloo Region, a Sexual Health Educator, and as a facilitator for OK2BME running social support groups for queer youth.
Teneile Warren (they/them)
Teneile Warren is a Black, Nonbinary, and Queer identifying Racial Equity and Anti-Oppression Educator based in Kitchener, Ontario. Through their professional practice, they consult with public and private institutions on addressing racial equity, gender equity, creating anti-oppressive spaces, and guiding organizational equity change initiatives. They are the co-founder of insideWaterloo and the Equity and Inclusion Officer at the Waterloo Region District School Board.
Washington Silk (they/them)
Washington Silk is a Registered Social Worker. They hold a BA in Anthropology from the University of Lethbridge (2010) and a Master of Social Work from Wilfrid Laurier University (2013). Wash is a passionate transgender and queer social worker with over 10 years of clinical and community experience. They are a white settler from Alberta. They have lived experience of ADHD, learning disabilities and mental health struggles and recovery.
Mandi Cowan (they/she)
Mandi Cowan is the co-owner of Cultivate Counselling. They graduated with a Master of Social Work from Carleton University in 2014 and have worked in the KW area ever since. As an experienced therapist, and also someone who has accessed mental health services, Mandi believes in the importance of finding a counselling space that values you as a unique and complex person or couple, and can adapt to meet your needs and goals.
Below are local resources for transgender people, and those looking to learn more about trans and gender-diverse people here in Waterloo Region.