For Pride month, SPECTRUM is excited to work with many great community partners to present a series of events and activities that both celebrate members of our 2SLGBTQ+ communities and promote equal rights and visibility. Remember, Pride is not just a party, it's a protest.
We're especially excited about our first ever fundraising gala, taking place on June 16th. Scroll down for all the details or visit the ticket site here.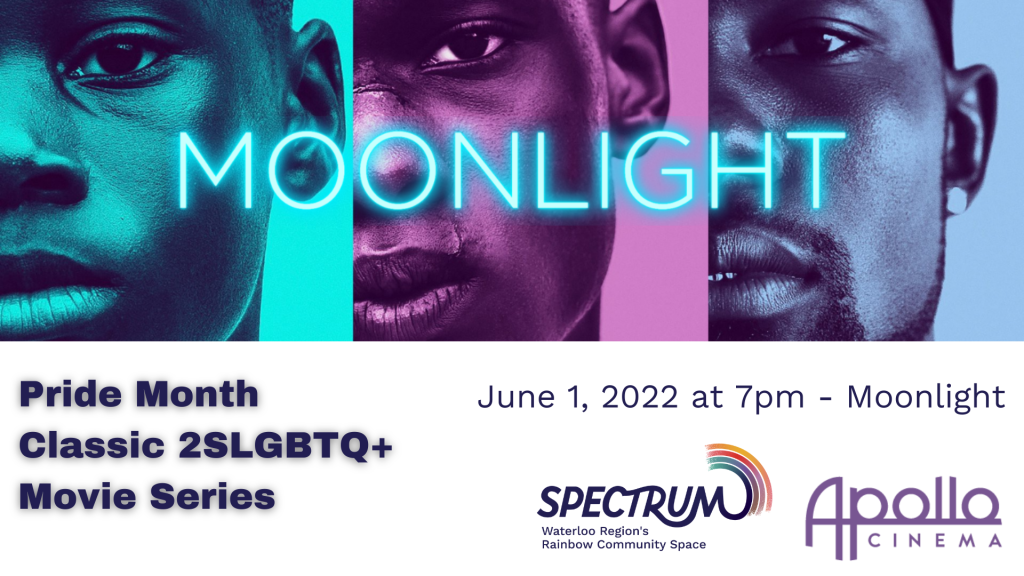 Wednesday June 1, 2022 at 7pm. Our Pride Month Classic 2SLGBTQ+ Movie Series kicks off with Moonlight at the Apollo. Get your tickets here.
---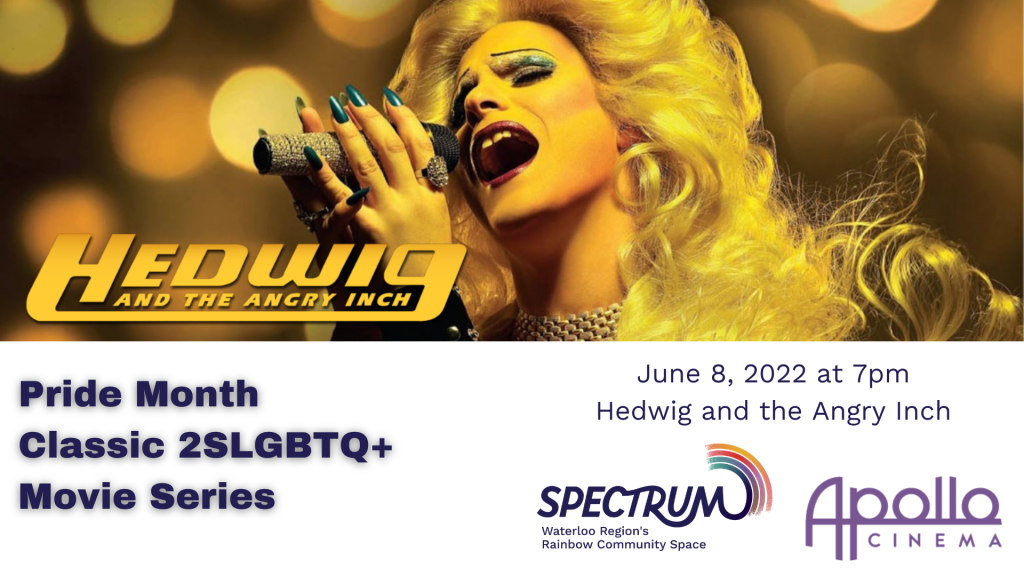 Wednesday June 8, 2022 at 7pm. Our Pride Month Classic 2SLGBTQ+ Movie Series continues with Hedwig and the Angry Inch at the Apollo. Get your tickets here.
---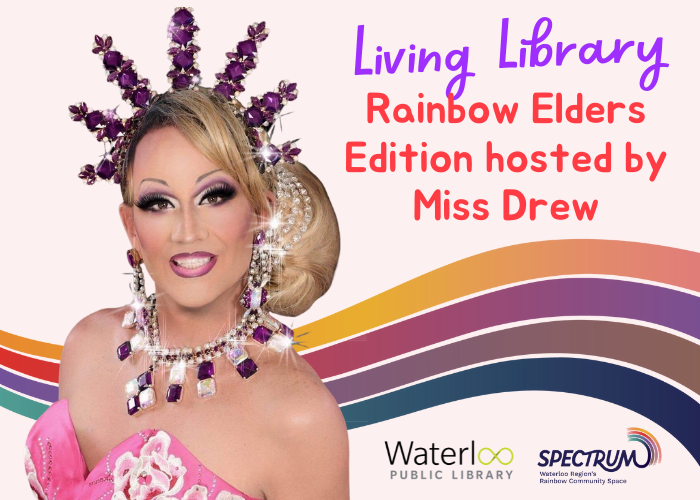 Thursday June 9, 2022 7-8:30pm – Living Library: Rainbow Elders Edition hosted by Miss Drew. In partnership with Waterloo Public Library and held at the Main library – 35 Albert Street.
Attend our Living Library: Rainbow Elders Edition! It's like speed dating but you get to "borrow" a 2SLGBTQ+ elder for a few minutes to ask them questions about their experiences in the rainbow community and to hear their stories. This fun event will help to foster intergenerational connections and strengthen the community. Register here.
---
Thursday June 9, 2022 6:30-7:30pm – Crafty Kings & Queens with Idea Exchange. For ages 13-18. Inspired by the legendary design challenges on Rupaul's Drag Race, participants will be given an array of materials (and a glue gun!) to "drag up" a doll as we discuss drag culture and make our own mini-Drag Queens & Kings! Register here.
---
Friday June 10, 2022 7-8pm – Pride Trivia with WPL
Join us and our friends from WPL for an evening of virtual Pride trivia. Test your knowledge of queer pop culture and 2SLGBTQ+ history! Register here.
---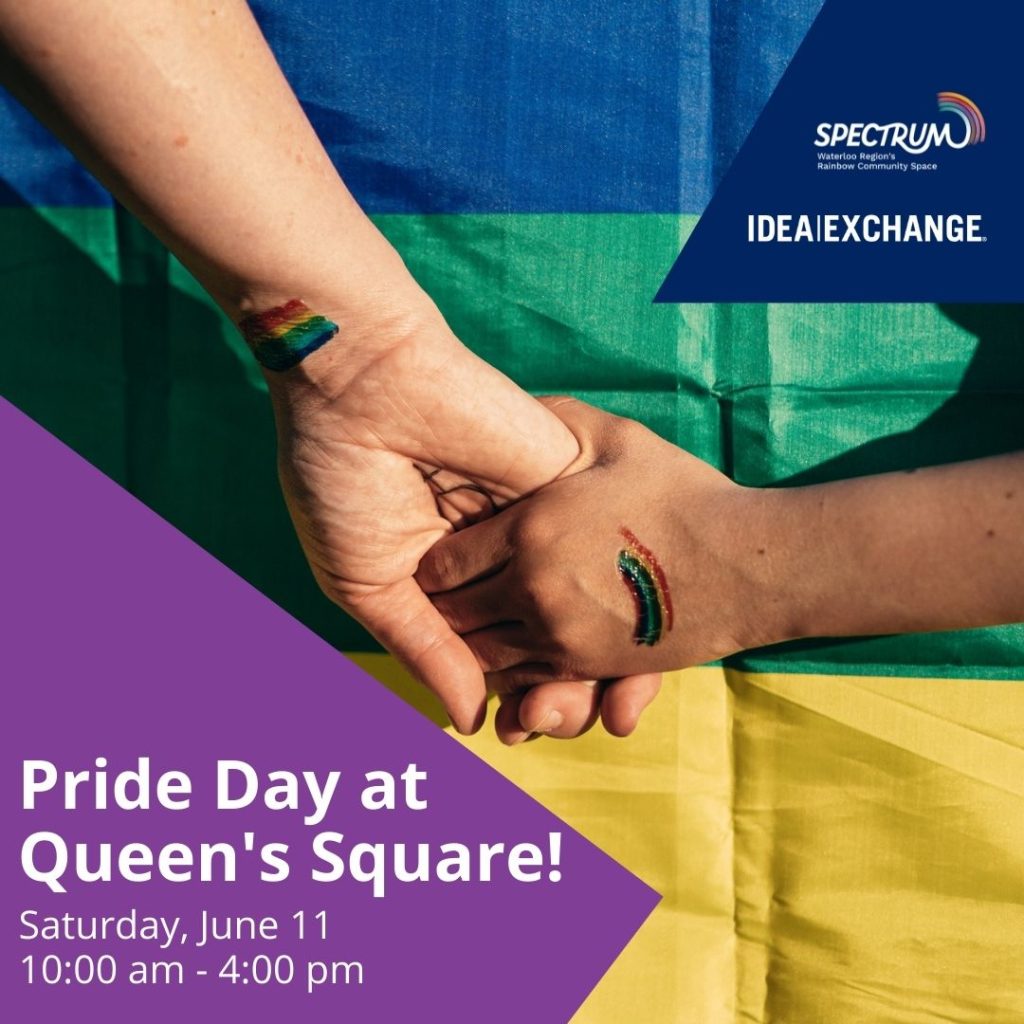 Saturday June 11, 2022 10am-4pm – Pride Day at Queen's Square. Come and celebrate with us the freedom to be you with colourful crafts, games, and activities to explore how we fit together in this crazy beautiful world of ours. Details here.
---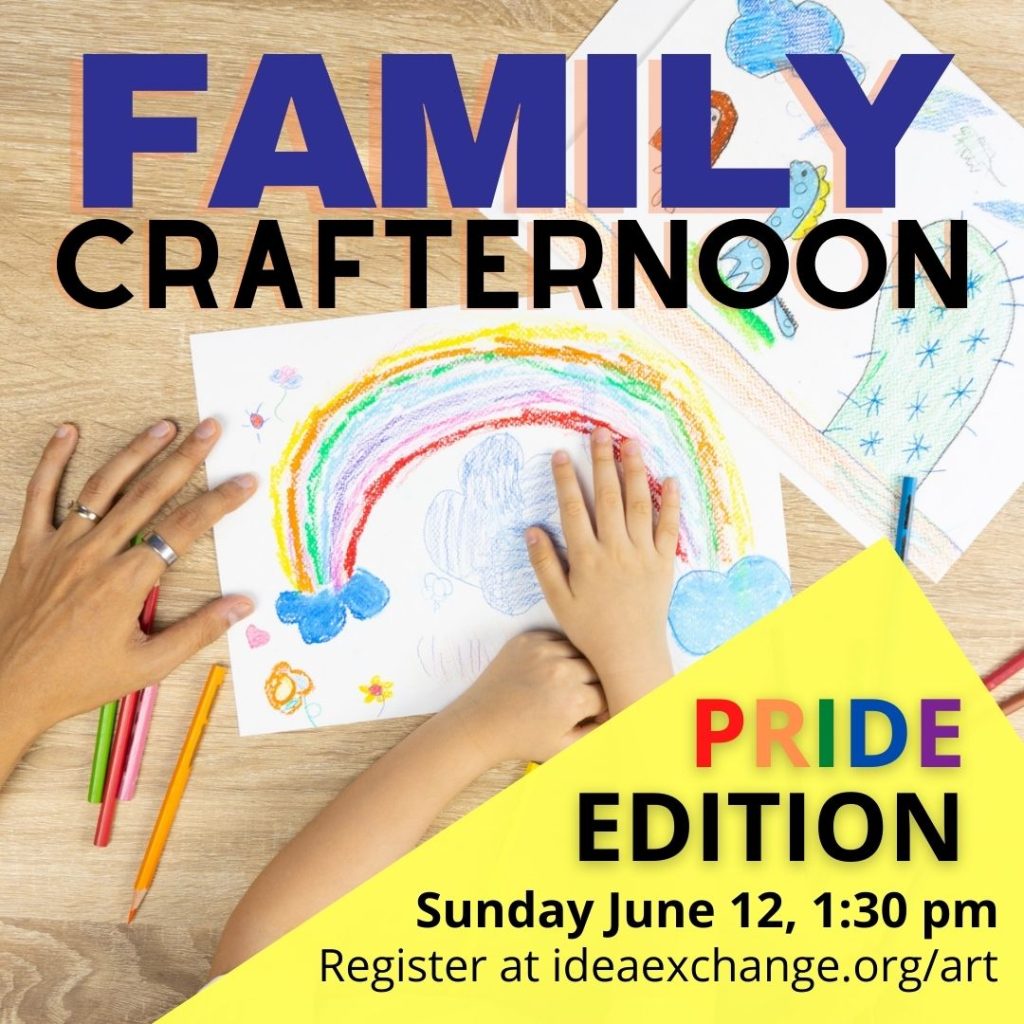 Sunday June 12, 2022 1:30-2:30pm – Pride-themed Family Crafternoon with the Cambridge Art Galleries team.
Bring the whole family and get crafty with us on Zoom! Find the list of materials needed and register to attend here.
---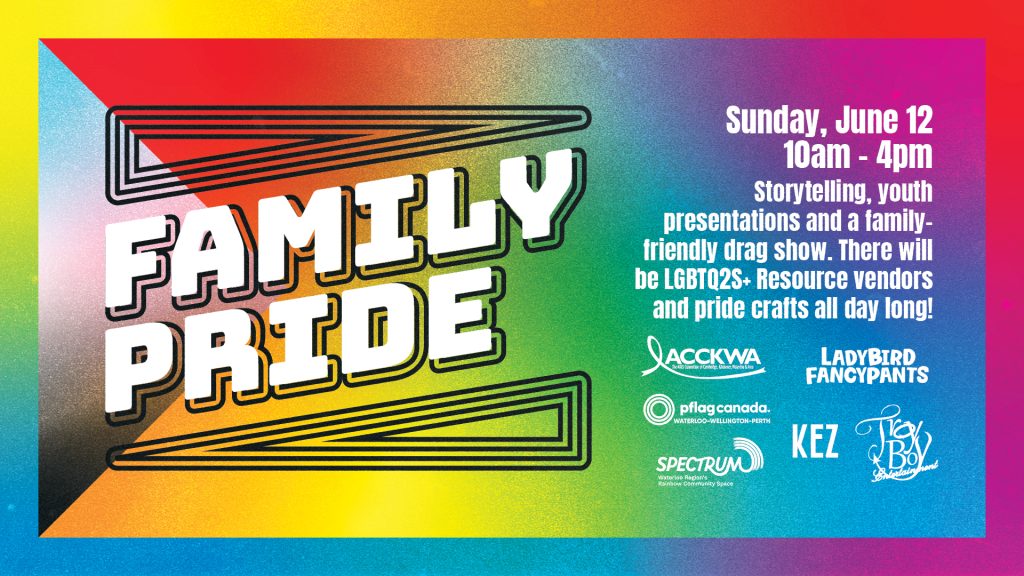 Sunday June 12, 2022 10am-3pm – Pride at THEMUSEUM
SPECTRUM will have a table at this all-day family-friendly event that includes storytime, comedy and drag performances, and crafts!
---
Tuesday June 14, 2022 7-8pm – Danny Ramadan author event with WPL.
Danny Ramadan is a Syrian-Canadian author and LGBTQ-refugees advocate. His debut novel, The Clothesline Swing, won multiple awards. His children's Book Salma the Syrian Chef, continues to receive accolades. Both books were translated to multiple languages. Through his fundraising efforts, Ramadan raised over $200,000 for Syrian LGBTQ+ identifying refugees. He currently serves as the Writer-in-Residence at the Haig-Brown House in Campbell River, BC.
Danny will be reading from his forthcoming novel, The Foghorn Echoes, which will be coming out August 2022, and joining us for a discussion with host, Nic Brewer. Register here.
---
Wednesday June 15, 2022 from 7-8pm – The Importance of Queer Literature with Idea Exchange.
Join Aashay Dalvi and SJ Sindu as they discuss the importance of queer literature, representation and identity. This program is offered in partnership with Rad Riot Books and Idea Exchange. Register here.
---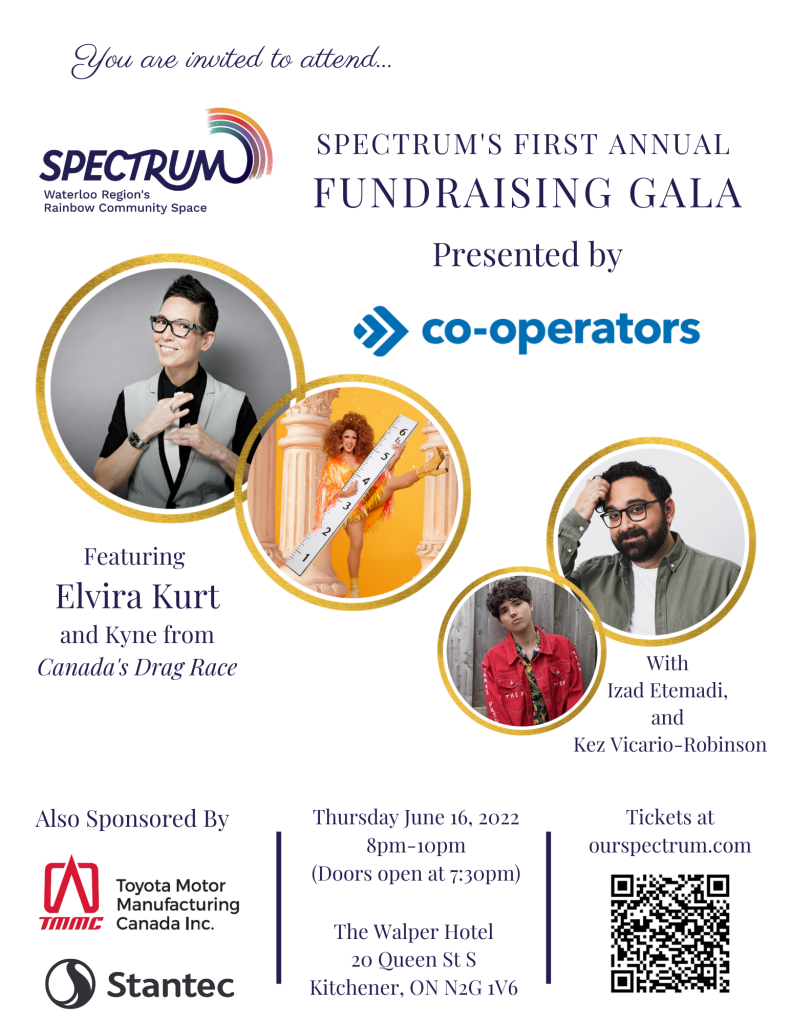 Thursday June 16, 2022 8-10pm – Join us for an evening of hilarity and entertainment in support of SPECTRUM, presented by The Co-operators! Our first annual fundraising gala will feature headliner Elvira Kurt, and MC Kyne from Canada's Drag Race, along with Izad Etemadi and Kez Vicario-Robinson.
Enjoy a dessert bar in the Walper's Crystal Ballroom and bid on great items in a silent auction — all in support of programs and services for 2SLGBTQ+ people in Waterloo Region!
Doors open at 7:30 and the show begins at 8pm.
Also sponsored by Toyota Motor Manufacturing Company and Stantec.
---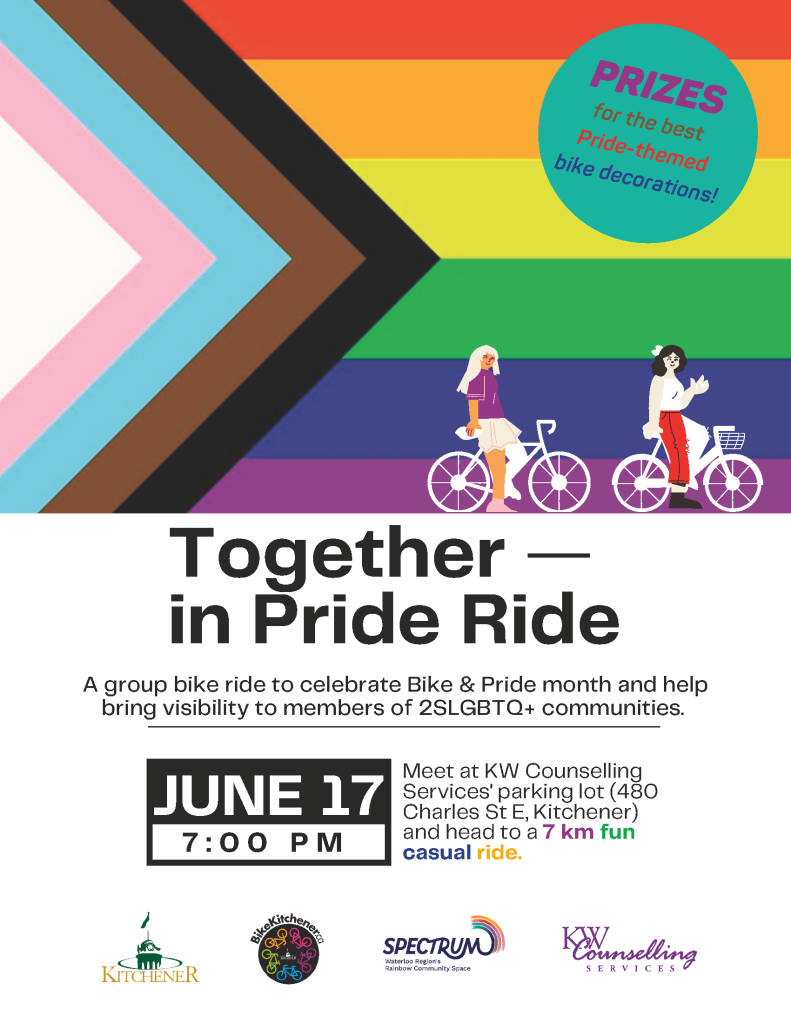 Friday June 17, 2022 – Together in Pride Ride
Join us for a cycling event in Kitchener to help bring visibility to members of 2SLGBTQ+ communities for Pride Month, and attention to cycling in Kitchener for Bike Month. We'll meet in the KW Counselling Services parking lot (480 Charles Street East) and head out on Charles Street for a 7km fun casual ride.
---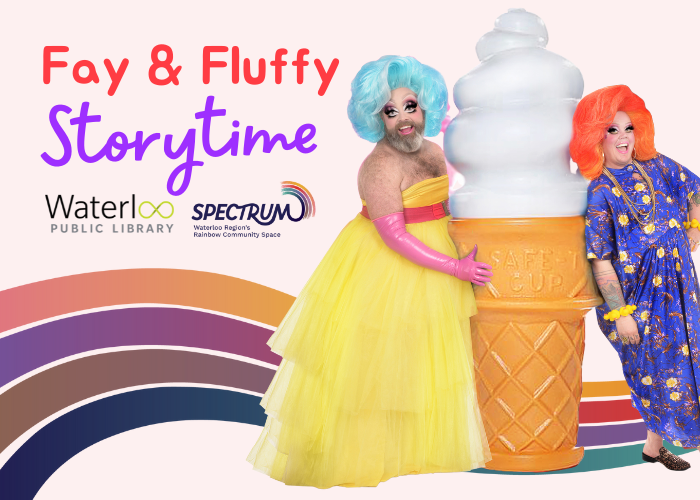 Saturday June 18 1pm-2pm – Drag Queen Storytime with Fay and Fluffy.
Drag Queens extraordinaire, Fay and Fluffy will be the first big show at WPL's new Eastside Branch! They say reading is FUN-damental and we couldn't agree more. Register here.
---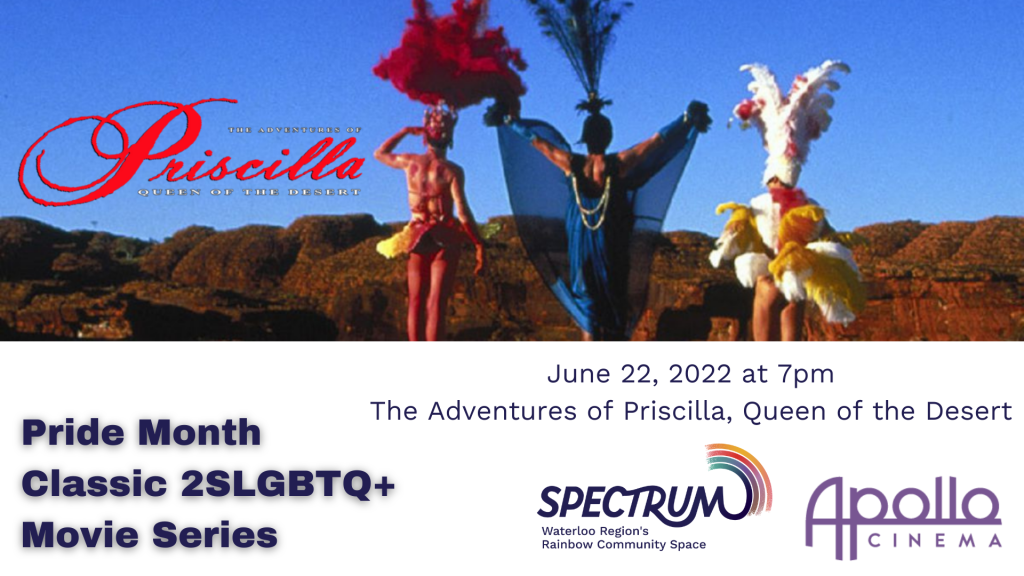 Wednesday June 22, 2022 at 7pm. Our Pride Month Classic 2SLGBTQ+ Movie Series concludes with The Adventures of Priscilla, Queen of the Desert at the Apollo. Get your tickets here.
---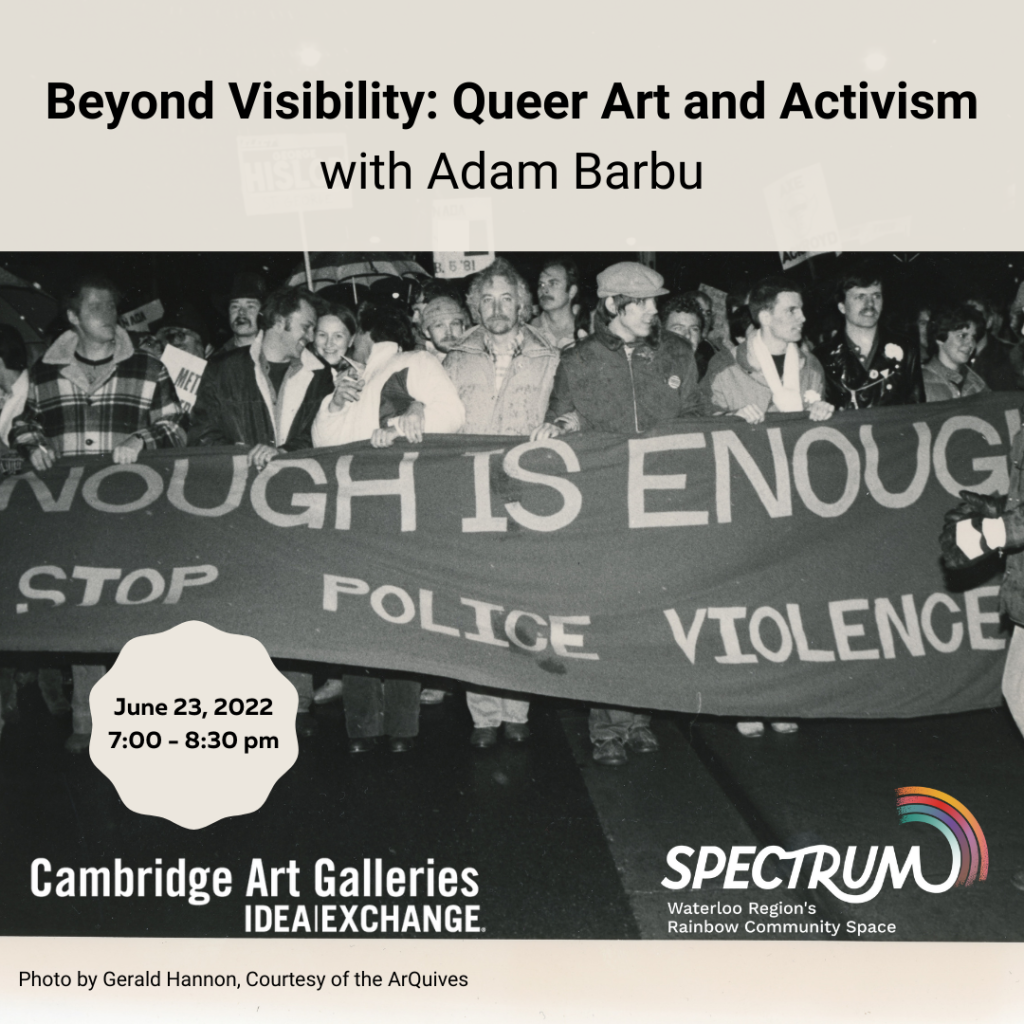 Thursday June 23, 2022 7-8:30pm – Beyond Visibility: Queer Art and Activism with Adam Barbu, in partnership with Cambridge Art Galleries.
We will consider the relationship between art and social change through the lens of queer history. Offering an expanded consideration of queer art and activism, the talk will explore resistance across a wide range of contexts. How can we begin to think beyond linear narratives of "progress" and re-situate politics at the heart of queer artistic practice? Drawing upon historical and contemporary figures, Barbu will illustrate how artists imagine alternative futures by interrogating the relationship between visibility and assimilation. Register here.
---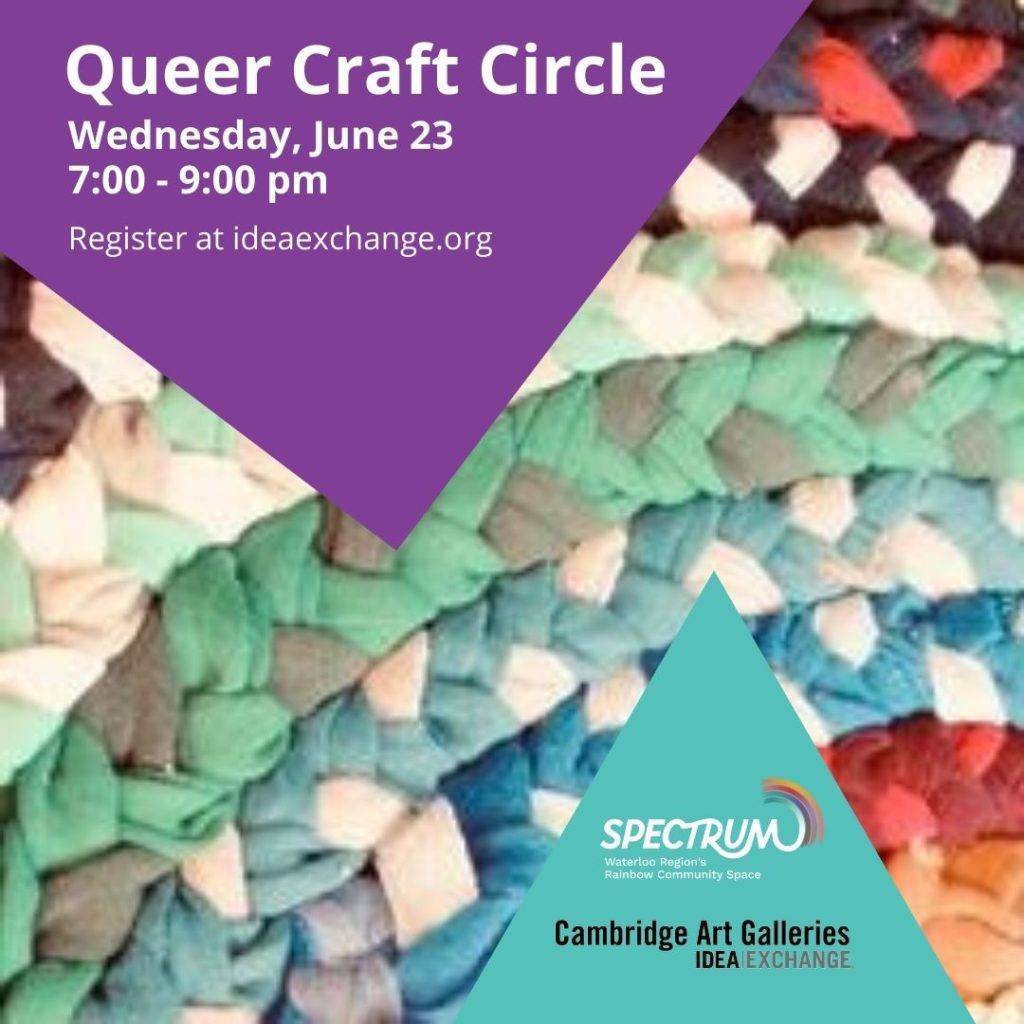 June 29, 2022 7-9pm – Queer Craft Circle with Cambridge Art Galleries.
Join artist Alisa McRonald for this fun, casual program on zoom. Together we will make braided no-sew coasters out of repurposed t-shirts. Learn how to make your own t-shirt yarn and then start braiding! We will talk about colour and efficient joining techniques.
A free supply kit is included with program registration and will be ready for pick-up at Idea Exchange, Queens Square (1 North Square, Cambridge) from June 22-28. The only items you will need from home are a pair of sharp scissors and some tape. Registration is limited to 2SLGBTQ+ -identified people in Waterloo Region. Register here.