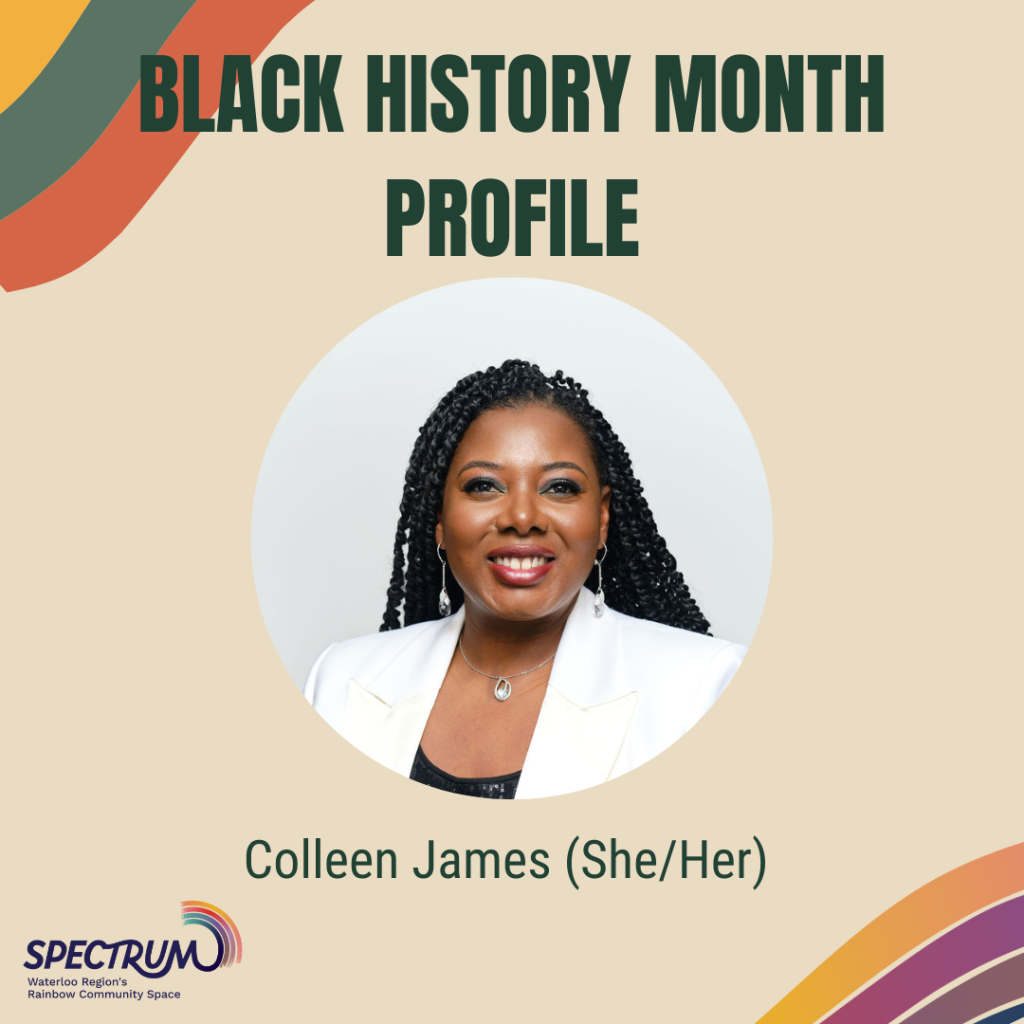 Colleen James (She/Her)
Colleen James was elected to Regional Council in October 2022, representing City of Kitchener residents.
Colleen's professional career includes more than 15 years of experience in municipal government at both the city and regional levels. As the founder of Divonify Incorporated, Colleen is a leading consultant on equity and inclusion. Locally, nationally, and internationally, Colleen partners with a wide range of public, private, and not-for-profit organizations and businesses that are committed to change.
Colleen's values are central to her work as a leader. These values determine her approach to making decisions as a Councillor on behalf of the community. These values include building trusted relationships; having equity-informed community discussions; listening and collaborating; empowering and amplifying; taking meaningful action, and being accountable.
Colleen graduated from the University of Toronto with an Honours B.A in history, political science, and Caribbean studies. She holds a master's degree in leadership, higher, and adult education from U of T's Ontario Institute for Studies in Education (OISE).
In 2020, the Canada International Black Women Event, named Colleen one of the Top 100 Black Women to Watch. In 2021, she was named one of the Top 25 Diversity Equity and Inclusion (DEI) Persons of the Year by the Canadian Multicultural Group.
Colleen is a graduate of Leadership Waterloo Region and serves on several local boards and committees, including the Kitchener Public Library (2020-2022), KW Oktoberfest (2020-present) and the selection committee for Leadership Waterloo Region (2019-present). She is also involved in many collaborative community projects, including the Caribbean Canadian Association of Waterloo Region, where she established the James STEM scholarship.
Born and raised in Kitchener, Colleen's family immigrated to Waterloo Region more than 50 years ago. She currently lives in Kitchener with her partner Daren and daughter Maleigha.
What led you to your current (career, art, activism)?
A clear recognition that there are perspectives and narratives that were not part of important decision-making tables. I want to change that. It's critical that all voices are heard when determining the future of our community.
Who are some of your influential authors or books to read?
Ralph Ellison's The Invisible Man. I read it in high school for an English project. It stuck with me because it highlighted the Black experience in society. It was the first time I was able to validate some of what I was experiencing. Being in spaces and not being seen or heard. It also addressed racism and societal impacts.
I am currently reading DEI Deconstructed by Lily Zheng. I am reading this as it provides insights into the ways organizations can address DEI. It is a pragmatic approach to organizational change.
What does Black History Month mean to you?
To me Black History Month means Black joy. It's a time to celebrate accomplishments and recognize the perspectives and narratives that compliment the spaces that we're in; the contributions of Black people in society. It's also a time for me to reflect on the parts of our history that have been erased. It's a reminder that Black history and heritage should be – and must be – celebrated all year around.
What are you most proud of accomplishing?
It's hard for me to pick just one… my daughter; my education; owning and operating a business; being a Regional Councillor – to name a few. Nothing has come easy for me. There have been many times when I was told no. But, I didn't let that stop me!
Describe a scene from your vision of the future for Waterloo Region.
A community where everyone feels like they are seen, heard, and valued for who they are and what they bring to the spaces they choose to be in. I want Waterloo Region to be a place where everyone thrives.
What's on your playlist right now?
90's RnB Music!
Social media or contact information: