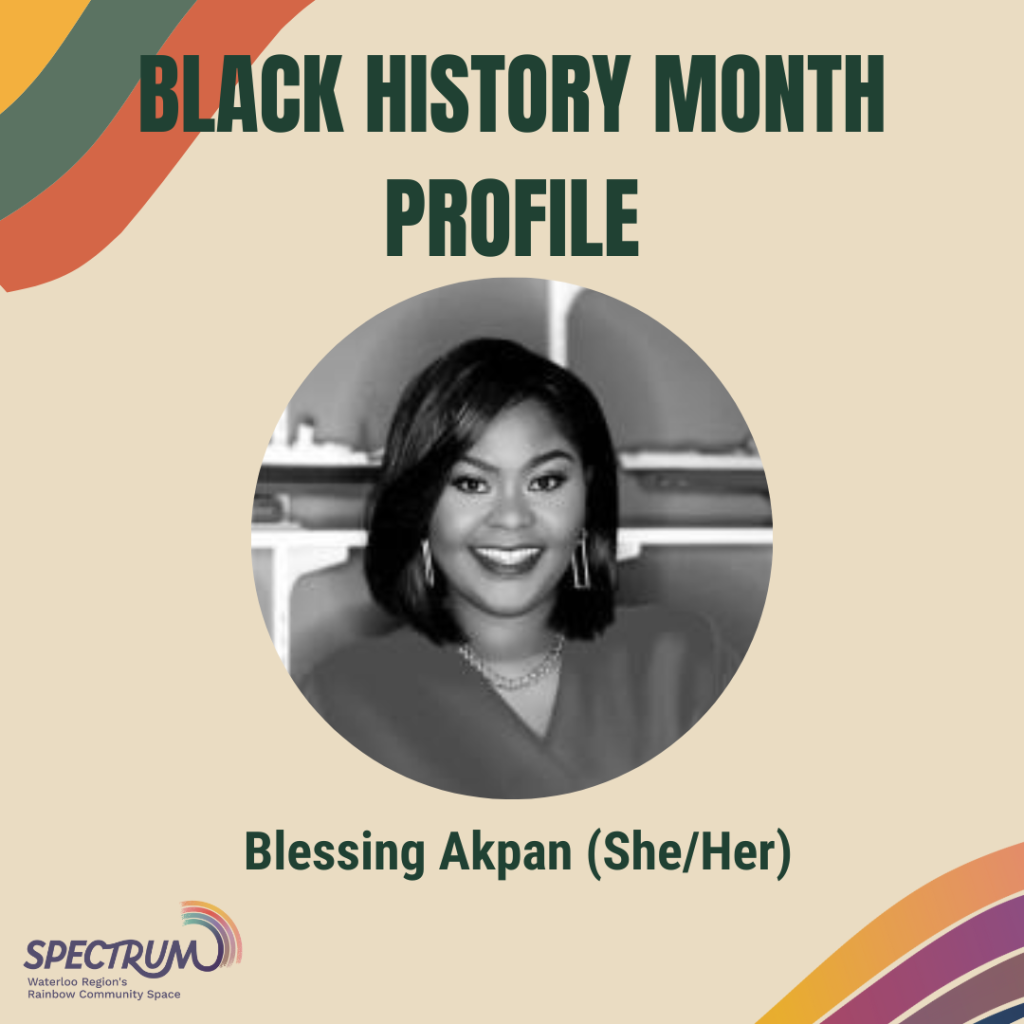 Blessing Akpan (She/Her) is a certified Scrum Master and Human Resources Professional with over a decade experience from Nigeria and now Canada. Blessing holds an M.Sc degree in Finance and Economics from the University of East Anglia, UK, postgraduate certificate in Human Resources Management from Conestoga College and professional certificates in Diversity, Equity and Inclusion from University of South Florida.
Blessing has served in both private and public sectors mainly as a management consultant and learning facilitator. She is currently the Community Impact Director with Waterloo Region Community Foundation. Within her role, she supports the foundation's mission of creating sustainable, equitable and thriving communities by granting, impact investing and convening conversations.
Blessing is very community oriented, and passionate about helping people; she volunteers with several organizations including service on the Boards of Rising Oaks Early Learning Ontario and Nigerians in the Region of Waterloo (NIROW).
What led you to your current (career, art, activism)?
I've always been passionate about humanity, our development and sustainable wealth creation that delivers value and is equitably distributed. Over time, I've gravitated towards roles in these areas that fulfill my personal and professional mandate. As life and learning evolves, I've tried to keep up to date all with the singular focus of contributing value by supporting people around me. If they thrive, so do I; and vice versa.
What does Black History Month mean to you?
Black History Month is a call to remember my identity and walk in it. Not the one inputted by colonial masters or propagated by erroneous media publications fueling harmful perceptions; but the truth of my history, descended from a race of people noted for industry, enlightenment, royalty, community and growth. With this identity, I am called to stand on the shoulders of these giants to do better. Stand tall and proud, representing these excellent values in my work, relationships, and life.
What are you most proud of accomplishing?
LIVING! Dusting myself off everyday and living in my truth and my values. Learning where I've failed and striving ever forward!
Why do you think it's important to be an ally to the 2SLGBTQIA+ community?
Being passionate about humanity for me is all encompassing with no labels. We are all disadvantaged in one form of the other, and at the same time have some privilege in one way or the other. As a member of a discriminated group myself I know how appreciative I am knowing that there is someone else who genuinely cares, is speaking up for me, and standing in the gap for me. Isn't this what is at the heart of community? Contributing our individual strengths for a communal whole? For if it rains on one roof it rains on us all!
What's on your playlist right now?
Lift Me Up by Rihanna. (Nigerian Artiste Tems is one of the Song Writers!)
Social media or contact information