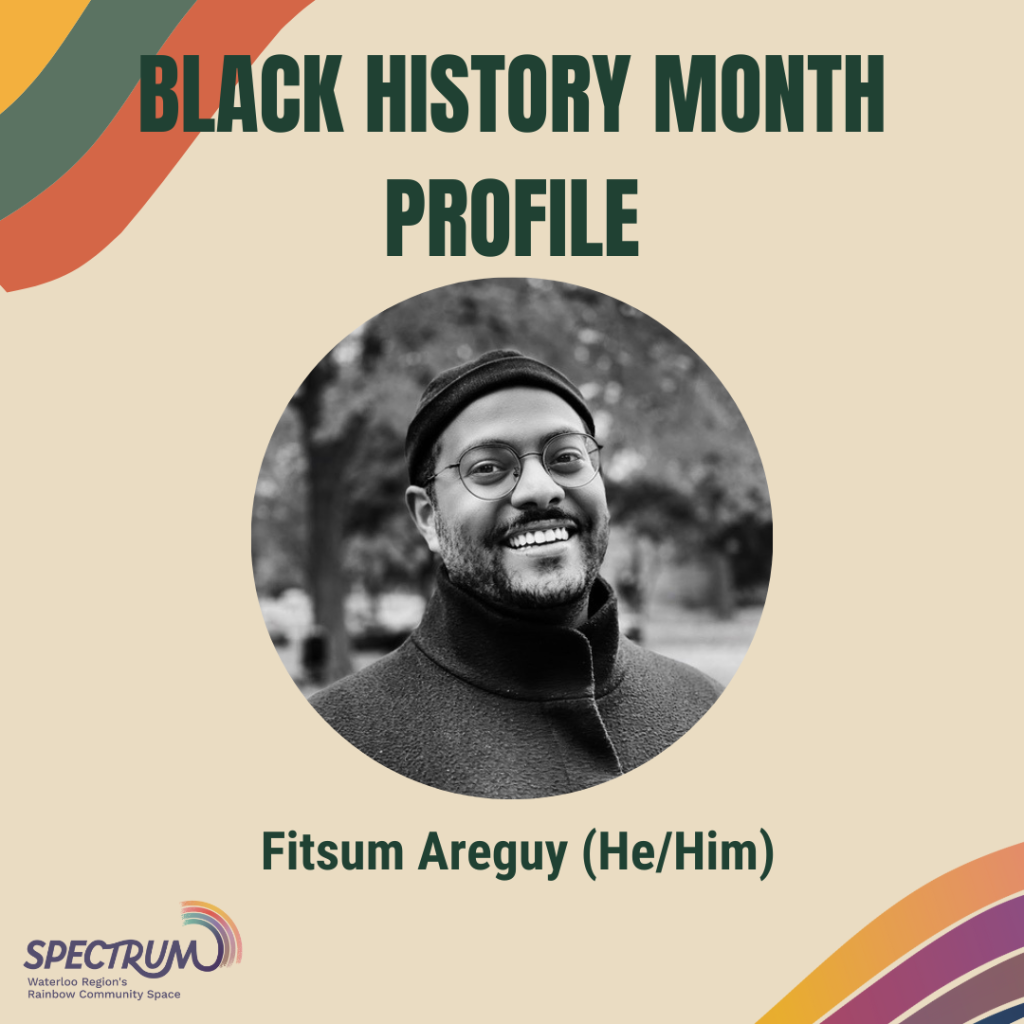 Fitsum Areguy (he/him) is a scholar-activist based in Kitchener, Ontario. His work engages racialized communities with an eye to addressing the structural roots of social and health disparities on the Haldimand Tract (Waterloo Region). Fitsum has worked as a youth worker, independent facilitator, recreation therapist, and writer/journalist. He currently volunteers in a leadership role with the ACB Network of WR, ACCKWA, and MT Space.
Fitsum is the co-founder and project director of Textile, a literary publication and mentorship program that showcases emerging marginalized artists and writers in Kitchener-Waterloo. Fitsum currently works as a Senior Knowledge Broker with Greo, a public health research organization focused on problem gambling and addiction. Fitsum holds an Hons. BA in Recreation & Leisure Studies and is an MA Candidate of Community Psychology at Wilfrid Laurier University. In his free time, Fitsum enjoys dance music, board games, and potlucks.
What led you to your current (career, art, activism)?
Key people and role models taught me at a very early age that engaging and supporting community in various ways – whether it be through my career, writing, activism, or volunteering – is like a circle or spiral movement that brings me back to my "still point" within. It is a social practice that is life-giving because it is political, liberatory, and relational. This is what drew me to youth advocacy, disability justice, and activism/organizing.
Who are some of your influential authors or books to read?
This is not an exhaustive list, but some authors who come to mind are Hanif Abdurraqib, Tiffany Lethabo King, James Baldwin, Fred Moten, Hilton Als, Jamel Brinkley, Octavia E. Butler.
Describe a scene from your vision of the future for Waterloo Region.
Picture this: It's 2024. Our leaders have found the political willpower to defund the Waterloo Regional Police Services. We have non-police, crisis response teams embedded in communities they're a part of. People are learning to value restorative justice over punitive and carceral responses across sectors. More direct service workers are hired and paid better. Investments have been made in housing, public education, public health, and social employment services. Crime has gone down because people are getting the resources and supports they need. Indigenous peoples are given land back. Finally, we're building a region together that works better for more of us.
What's on your playlist right now?
Mustafa, Robert Glasper, Azealia Banks, Blood Orange, and Theo Parrish.
Social media or contact information
Connect with me at fitsum-areguy.com or on Twitter @fitsumareguy.