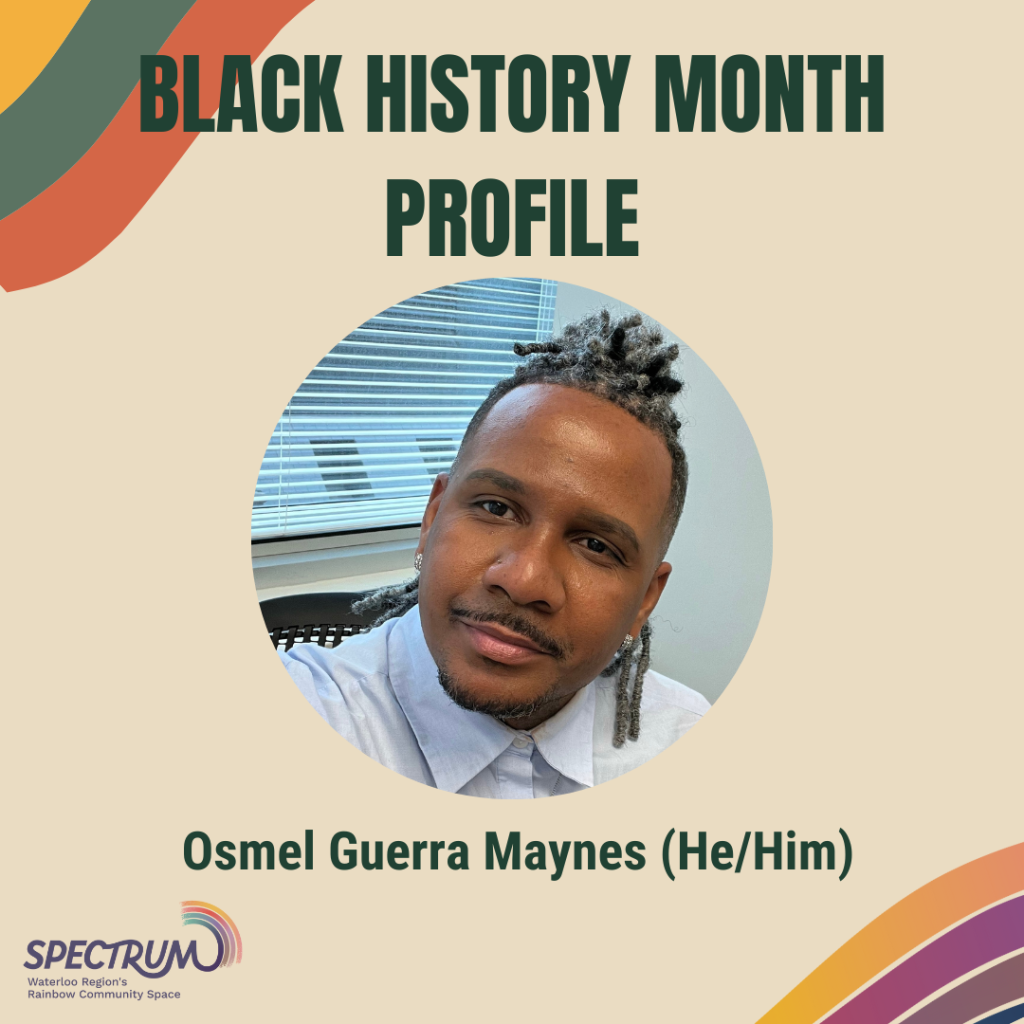 Osmel B. Guerra Maynes (He|Him)

Osmel B. Guerra Maynes is a proud Afro-Latino cisgender queer man who has called Canada home for more than 10 years. Born in the Dominican Republic and raised in Antigua and Barbuda, Osmel immigrated to Canada as an international student in 2003 to pursue a political science degree at Carleton University.
Osmel is a social justice activist with a focus on enhancing the inclusion of marginalized voices. Osmel became the first Executive Director of Capital Pride/ Fierté dans la Capitale  which organizes the pride festival in the National Capital Region (Ottawa & Gatineau) and has played a critical role in the development and success of the organization, In 2021 Osmel joined the team at HQ Toronto which is a centre of excellence in sexual, mental, and social health for CIS guys into guys, trans and nonbinary folks as their Director of Organizational Development, Community & Culture.
Osmel has worked with 2SLGBTQ+ community-based organizations in Ontario, British Columbia and the Yukon, Osmel focused his work on advancing effective grassroots and province-wide social programming, enhancing the inclusion of marginalized voices, pushing for sound public policy, and overseeing effective strategic planning in the non-profit and charitable sectors.
Osmel is tirelessly looking for new ways to engage with his community, and always ensures that he provides a voice to all marginalized people, especially QTBIPOC folks. Osmel strongly believes in the power of inclusion to affect lasting social change.
What led you to your current (career, art, activism)?
I would never think that this island boy born in the Dominican Republic and raised in Antigua & Barbuda with a strong religious upbringing would one day be living in Canada and representing the voices of the LGBTQ community…a community that I have in the past neglected, disrespected and was ashamed of for many years due to my own internalized homophobia and insecurities while living in a homophobic nation.
I had the privilege to come out to my family a few years ago. I was scared but with a trembling voice and courageous heart I told the most important people in my life my truth.
It is hard at times for Black people and persons of colour to live our truth. We tend to focus on making our families proud or wonder what folks within our various faith communities would think of us. I wanted to ensure that I was contributing to breaking down those barriers and build a world where folks like me can live in their truth and that is why I advocate for the QTBIPOC community and will continue to till my last breath. 
What are you most proud of accomplishing?
When I decided to live my truth many years ago and came out as gay to my family and friends which was the best decision of my life. As I stated before many people of colour who identify as LGBTQ are unfortunately not afforded this privilege because they continue to live in fear of living their truth due to violence or family values in which they think they must uphold…. I hope that one day folks who are going through the struggles that I have so many years ago will be able to walk their own truth. Let today be only the first step in ending hate and discrimination to folks who just want to live in their truth, and to love who they want to love. 
What's on your playlist right now?
Switching between the Renaissance album by Beyonce and Sam Smith's Gloria
Social media or contact information.
Instagram: Osmel.maynes